Event and meetings
"From learning to classroom analytics": 1st international workshop of the TELS chair
The workshop "From learning to classroom analytics" will be held on November 16 and 17. This International Colloquium is connected to the Chair Technology-Enhanced Learning Spaces (TELS) funded by I-SITE ULNE and aims to increase cross-border collaborations on research projects related to Learning Analytics and Learning Spaces.
The objective is to make the connection between both concepts as we should broaden the scope of analytics, modelling not only the learners interactions with the digital tool/technology, but anything that may happen in this specific ecosystem called a classroom or learning space by using multimodal analytics. For this reason the Colloquium is entitled "From learning to classroom analytics".
The event wants to bring together researchers from 3i partner institutions and institutions in the cross-border region working on learning analytics and learning spaces. This event aims to make the connections between all of the projects and create a strong network on learning space & analytics within the region and we hope to set up new collaborations (e.g. European research projects, symposium at EARLI conference).
The event foresees to schedule enough space for discussion about further collaboration. The first edition is a invite only event, but we hope off course that we will be able to organize this event on a yearly or biennial basis, including an open call for contribution in the following years.
We feel honoured to present two international keynotes at our event who will share the latest insights on classroom analytics and multimodal learning analytics.
16 November, 10h-17h
At Université de Lille, Campus Pont-de-Bois
Rue du Barreau, 59653, Villeneuve-d'Ascq, France
Welcome Speech by professor Régis Bordet, Executive Director, I-SITE ULNE
Interactive Poster Session:

The Use of Learning Analytics in a Blended Learning Context by Elise Ameloot (Ghent University)
Flow detection in a MOOC environment Learner Models by Sergio Iván Ramírez Luelmo (ULille)
Supporting Teamwork in Ambient Learning Spaces by Siem Buseyne (KU Leuven)
And more*

Keynote by professor Pierre Dillenbourg
"Classroom analytics: zooming out from a student to a classroom"
Guided tour of the Lille Learning Lab – Campus Pont de Bois
Paper presentations followed by round table discussions:

Experiences and impact of PROFFIteROLE (PRatiques OFFIcinales et jeux de ROLEs) within the Faculty of Pharmacy of Lille by Mohamed LEMDANI (ULille)

Exploring Student and Teacher Experiences in Hybrid Learning Environments: Does Presence Matter? by Annelies Raes (ULille & KU Leuven)

"Classroom analytics: zooming out from a student to a classroom", Professor Dr. Pierre Dillenbourg
Pierre Dillenbourg is full professor in learning technologies in the School of Computer & Communication Sciences, where he is the head of the CHILI Lab: "Computer-Human Interaction for Learning & Instruction». He is the director of the leading house DUAL-T, which develops technologies for dual vocational education systems (carpenters, florists,…). With EPFL colleagues, he launched in 2017 the Swiss EdTech Collider, an incubator with 80 start-ups in learning technologies. He (co-)-founded 5 start-ups, does consulting missions in the corporate world and joined the board of several companies or institutions. In 2018, he co-founded LEARN, the EPFL Center of Learning Sciences that brings together the local initiatives in educational innovation. He is a fellow of the International Society for Learning Sciences. Currently he is the Associate Vice-President for Education at EPFL.
More info: https://people.epfl.ch/pierre.dillenbourg
17 November, 10h-17h
At KU Leuven Kulak Kortrijk Campus
Etienne Sabbelaan 51, 8500, Kortrijk, Belgium
Welcome Speech by professor Piet Desmet, vice-rector KU Leuven
Keynote by professor Mutlu Cukurova:
"The promise and challenges of multimodal learning analytics".
Paper presentations followed by round table discussions:

Development of new tools for analyzing behavior, emotions and stress within PRESAGE health simulation center presented by Yujin Wu and Ali Amad (ULille)

Smart Collaboration Assistant to support emergency training in extended reality presented by Kamakshi Rajagopal and Kim Dekeyser (KU Leuven)

Towards a framework to assist teachers to evaluate student's human centered project management skills: the APACHES project
presented by Mathieu Vermeulen and Alexis Lebis (IMT Lille Douai)

Learning analytics and personalized learning for assembly training in AR and VR presented by Dries Debeer (KU Leuven)

Guided tour in Edulab, part of Leuven Learning Lab
Exploring future collaborations and wrap up.

"The promise and challenges of multimodal learning analytics", Professor Dr. Mutlu Cukurova
Mutlu Cukurova is an Associate Professor of Learning Technologies at University College London, UK. His research focuses on the design, development and implementation of Artificial Intelligence and Analytics solutions to support human learning with a particular focus on multimodal learning analytics. Dr. Cukurova is engaged with UNESCO's unit for Technology and AI in Education, UCL's Grand Challenges on Transformative Technologies, is the chief research advisor at EDUCATE Ventures, an editor of the British Journal of Educational Technology and an Associate Editor of the International Journal of Child-Computer Interaction.
More info: https://iris.ucl.ac.uk/iris/browse/profile?upi=MCUKU85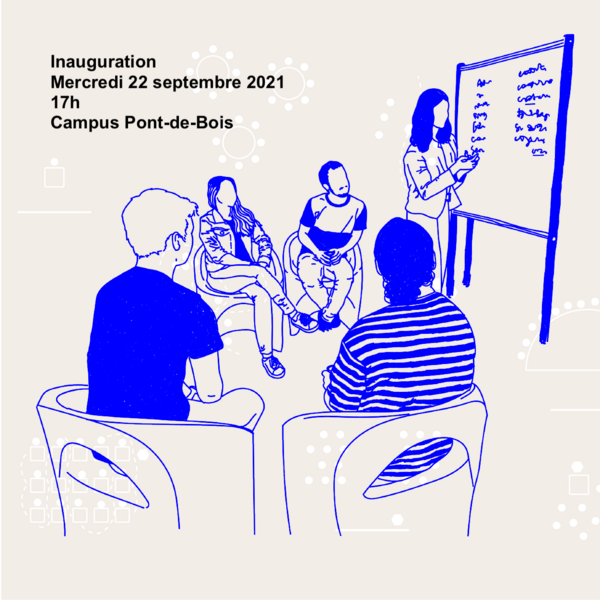 Lille Learning Lab inauguration
Inauguration of the Lille Learning Lab spaces on September 22 at 5pm!
The open house, originally scheduled for September 22-24, will be held at a later date due to the global shortage of electronic components.
International colloquium on learning spaces and learning analytics
This first international colloquium is a concrete expression of the dynamics aiming to encourage the emergence of new joint projects between the ITEC research team and the I-SITE research projects.
Participation in this first international conference will be open to all. It will be launched by an international speaker. ITEC researchers and those working on I-SITE funded projects on learning spaces and analytics will be invited to present and share their research. This event is intended to occur on an annual or biennial basis, including an open call for papers for future editions.